SUBMIT
BEFORE YOU SUBMIT, MAKE SURE YOUR FILM: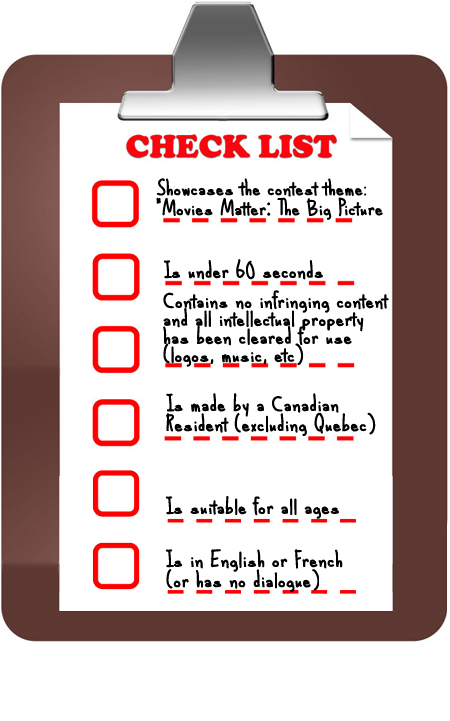 CONTEST PERIOD
All videos must be submitted online via thereelchallenge.ca by Sunday, January 26 at 11:59 PM (EST).  Please note that videos may be submitted any time prior to the deadline.
AWARDS
Two prizes are to be awarded for short films (60 seconds or less):
Grand Prize: $10,000
Runner-Up: $5,000
CATEGORIES
All genres of film are accepted (comedy, animation, drama, sci-fi, documentary, etc…).
SELECTION
Prizes will be awarded to the contestants whose submissions best capture the theme of this year's contest, Movies Matter: The Big Picture, and are considered the most engaging, imaginative and innovative in content and delivery.
NOTIFICATION
Participants will be notified via email.  Make sure that you provide a working email address and that the domain "@cfccreates.com" is not filtered out by your email service.
READY TO SUBMIT?
You must complete 2 forms to complete your application:
Author Profile (or if you've done this already simply LOG IN) and,
CONTEST SUBMISSION FORM (You must be logged in to view the entry form)
Resubmissions are not accepted